Inspired by the energizing freshness of the Aegean, its unmistakable nature, its thousands of years of history and sapphire blue waters, you will discover the magic of serenity in your soul and the renewal of your skin with the silky touches of Alatia Spa which has an area of 2400 sqm.
Our working hours: 09.00 – 22.00
Feel The Aegean Freshness In Your Soul
We invite you to unwind in the healing energy of ALATIA.
Soothe your senses and surround you with peace and tranquility.
With massage therapies designed by world-class expert therapists, hydrotherapy pool known for its healing effects specifically on joints and muscles, 34 degrees hot jacuzzi pools, sauna, tubs and traditional Turkish bath; aroma steam room,
respiratory salt room, (IGLO) Ice Room designed especially for cold treatments recommended after hot treatments,
Biblos Experiental Rain that provides aromatherapy and chromotherapy opportunities, relaxation areas, massage rooms and VIP suites; Alatia Spa opens the doors to a world made just for you.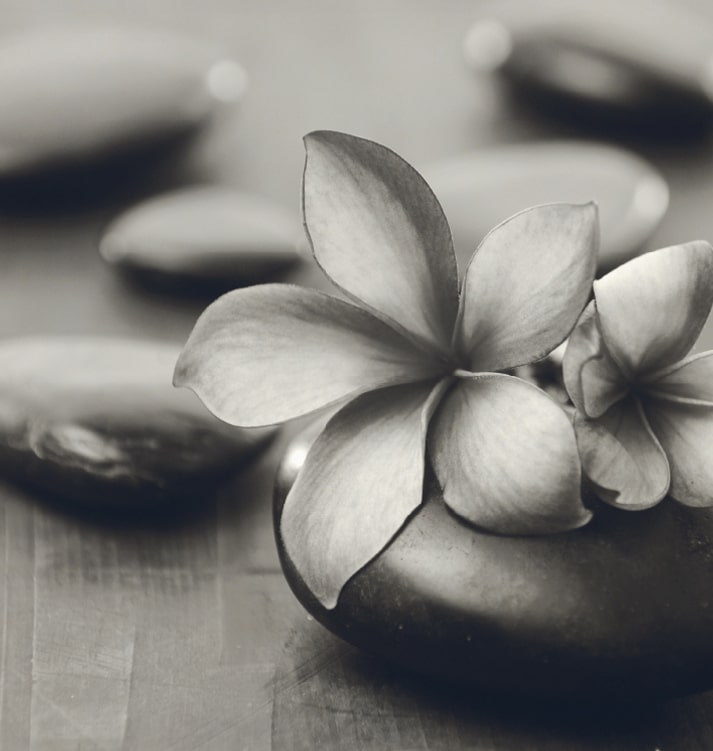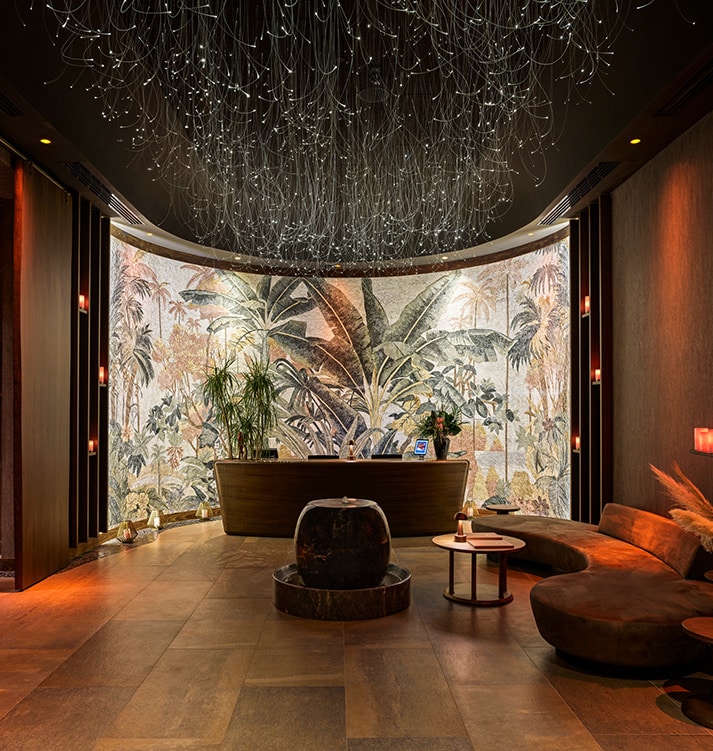 Immerse yourself in the flow of the water

Enjoy the peace and privacy of one of our Private VIP Spa Suites and indulge yourself in a treatment tailored individually to you.
Named after the storm god in ancient times, the Baal Suite offers its guests a luxurious spa experience with its large area. You can experience true perfection with special care packages and treats prepared specifically for treatment packages at the Baal Suite; generally preferred by guests that want to receive a few massages or treatments together or that want to celebrate a special day with their loved ones.
• Steam Room
• Sauna
• Jacuzzi
• Hammam
• Chill out Area
• Massage Room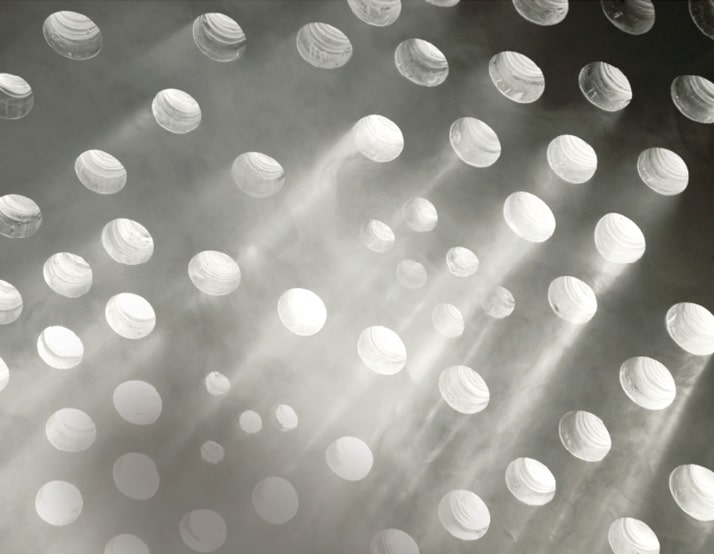 Named after the god of the sea during the Phoenician times, the Yamm Suite is designed intricately for two to offer a matchless spa experience in a special atmosphere. It is the irrevocable choice of couples with its romantic atmosphere.
• Jacuzzi
• Hammam
• Massage Room
• Lounge
Ten Therapy Rooms
Yamm Suite
Baal Suite
Traditional Turkish Bath and Bath Rooms
Aromatic Steam Rooms Salt Saunas
Solarium
Tropic Experiental Rain
Fresh Water Pools
Resting Rooms
Boutique
Alatia Bar serving the fresh natural
produce of Biblos gardens
Outdoor Spa Cabanas
Technogym Equipped
Fitness Room & Reformer
Polar Room (IGLO) and Inhaler Salt Room
Pilates Studios
Hair Studio
TURKISH BATH
The lightness of relaxation with traditional
Turkish bath rituals…
SALT ROOM
With the healing effects of salt caves, you will feel much better
in a natural therapy area used to help improve the respiratory
system and general health.
ICE ROOM (IGLOO)
Experience the sense of renewal in your body with the Polar
Room (IGLOO) specially designed for cold treatments,
which are recommended to be taken after hot treat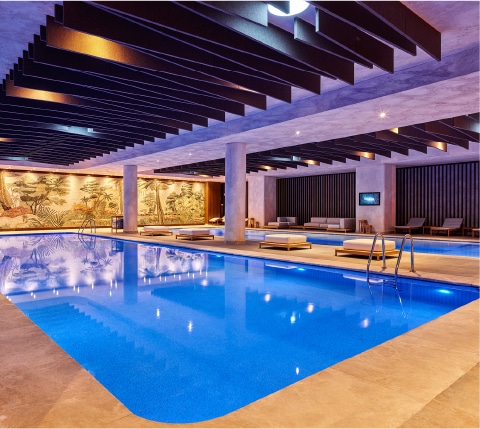 SWIMMING POOLS
Immerse yourself in the flow of the water in the private
hot tub and indoor swimming pool.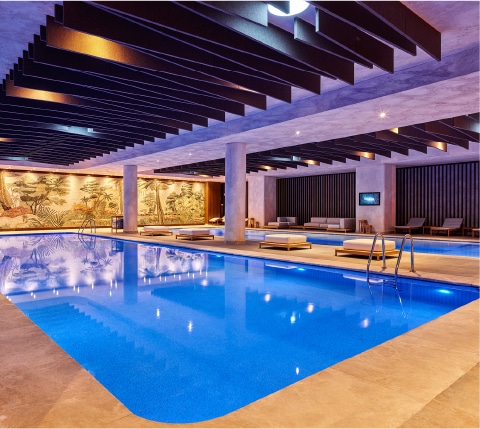 SWIMMING POOLS
Immerse yourself in the flow of the water in the private
hot tub and indoor swimming pool.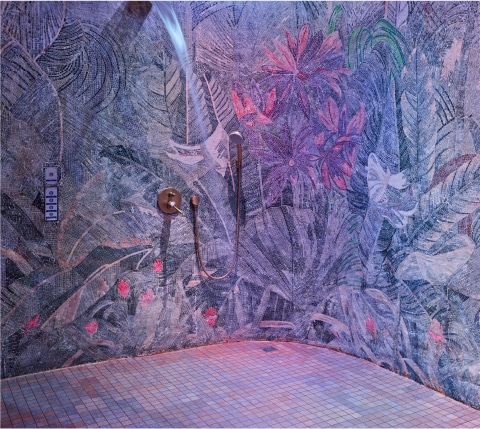 EXPERIENTAL RAIN
Enjoy a healthy relaxation with the healing and
immune-boosting properties of our Experiental Rain that
regulate your blood circulation.
SPA CABANAS
Indulge in bird sounds and the unique nature of Biblos
surrounded by palm trees, yucca trees and starlices.
Experience the pleasure of getting a massage accompanied
by the refreshing breeze of Alaçatı in the special
therapy cabanas.
Enhance your beauty with an indulgent facial.
Our therapists use advanced formulas and the latest techniques to deep-cleanse, tone and moisturize your complexion, leaving you looking radiant and fresh.

Equipped with state-of-the-art Technogym cardiovascular, regional strength and flexibility and EMS equipment you can take part in fitness programs prepared and managed by professional trainers, or if you wish, you can work towards maintaining your form with personal trainers.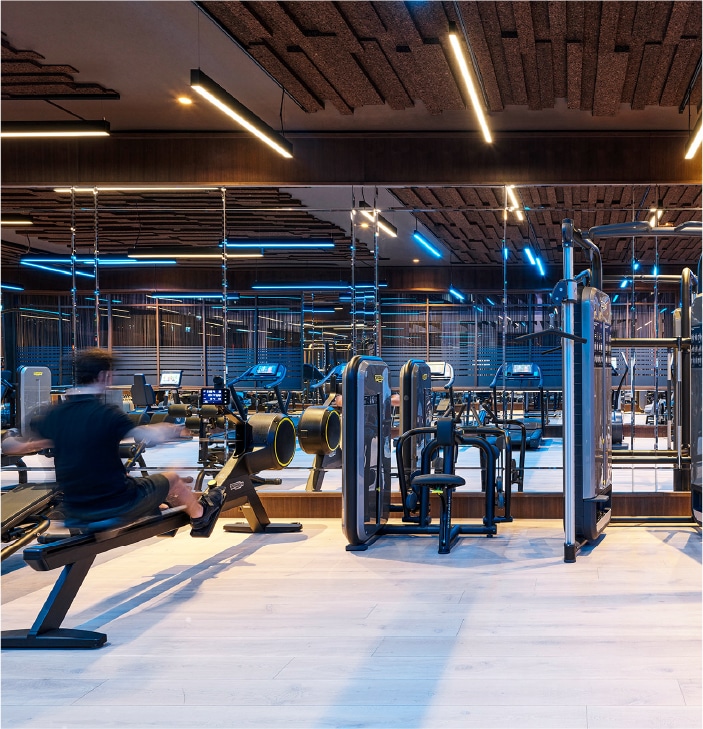 With its modern and dynamic team, Backstage Hair Studio offers a flawless service in hair and nail care and styling with an understanding that blends the classic and the new.
By using high-end hair care products for your hair to gain volume, regain its health and protect its colour, Backstages ensures that your hairdresser experience is not limited to hair styling. Providing unisex service, Backstage follows the hair fashion closely and leads the trends.
Hours of service: 10.00 – 21.00
You can shop from popular brands such as Moeva London and Maison La Plage at Boutique, where you can find the most popular and trendy swimwear, bikini, kimono and accessories of the new season. Showcasing finest pieces of carefully selected collections, Boutique offers special designs in many colours and models that will appeal to your taste. Be a part of the colourful and unique spirit of Alaçatı with the summer creations of Boutique…
MOEVA
All eyes are on you with Moeva's trendsetting designs
that determine the beach style…
MAISON LA PLAGE
A very stylish journey from day to night with original pattern
designs and details…
LIGNE ST. BARTH
With its innovative and unique formulas and products suitable for all skin types, feel the Ligne St. Barth freshness on your skin.
DR. BARBARA STURM
Repairing, nourishing, refreshing, and renewing your skin,
meet the miraculous effects of Dr.Barbara Sturm products.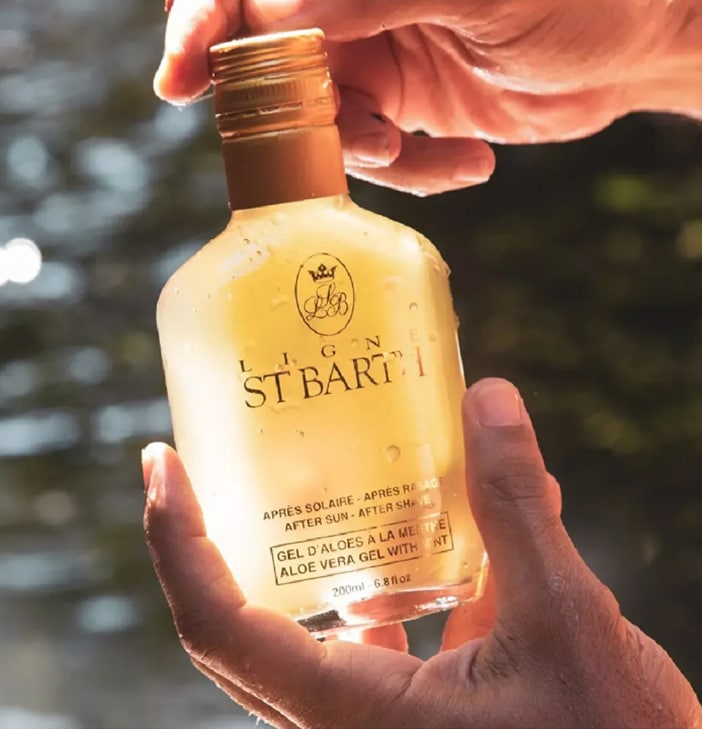 Recharge with delicious drinks full of freshness and health at Alatia Bar.
For Inquiries Please Contact
+90 232 335 00 00    alatiaspa@biblosresorts.com